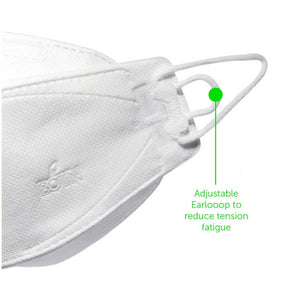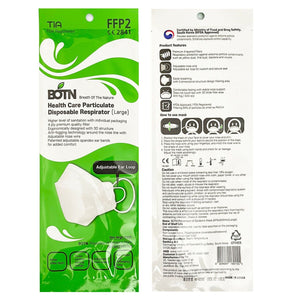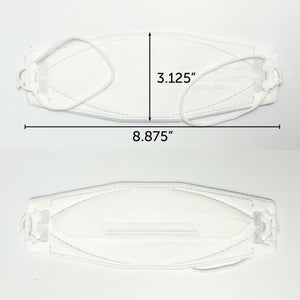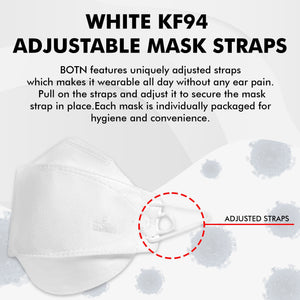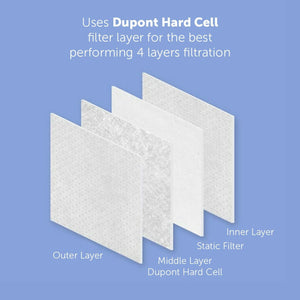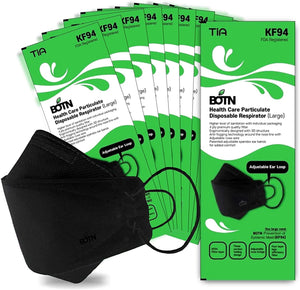 BOTN Adjustable KF94 Mask / Large - 10 Pack ($2.25 per mask)
We are transitioning to a different brand for Large size KF94s. Please take a look at our LG KF94 listing

BOTN certified KF94 adjustable masks. Available in Adult size Large, perfect for those with larger faces. Adjustable nose-bridge and earloop design is also perfect for those with glasses. For a Regular Size KF94, please take a look at our Bluna listing.

KF94 Rating Certified by the government of South Korea 

Made in South Korea

Individually sealed for highest hygiene standards and product safety

4-Layers of highest grade materials for >94% filtration of harmful particles
Adjustable earloop design allows for a perfect fit
Soft/lint-free materials fit ergonomically around the contours of the face
Excellent breathability for all-day wear
10 masks individually sealed

KFDA approved and FDA registered

100% Authentic Guarantee
Buying Options:
Adult Large / White - 10 Pack, individually sealed
Adult Large / Black - 10 pack, individually sealed
KF94 is the South Korean certified equivalent to the N95 and the KN95 masks. NIH Study on Effectiveness of KF94 and N95 masks. This product not eligible for returns.
Almost there
They didn't work as well as other KF94 masks I've tried. The straps would come off easily, but I liked the fit overall.
Good but a bit big
this is a really good mask...nice secure fit..I just found it a bit too large...I have a large face and with the added adjustments on the side extended to their fullest ...this was just enough to make a good fit...I have placed another order for a different product...the respokare and usually order the large size...the order recently placed I ordered the respokare in the medium...for a friend...Protectly noticed this and contacted me to make sure I wanted the medium...great service...also their nitrile gloves are the best...they do not tear...I get the large green ones...love them...and especially love Protectly
Excellent product!
These masks and the regular size of the same style fit both mine and my husband's fave perfectly. The adjustable ear loop works great and the nosepiece stays out!