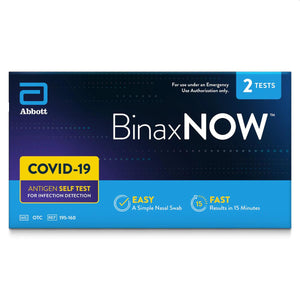 Abbott BinaxNOW COVID-19 Self Test Kit - (2 Tests)
Current batch original expiration dates are May/June (FDA Extension of Kits past Expiration date) - see second photo, they are extended past original date



Box is Damaged - materials inside are new and untouched
BinaxNOW COVID-19 Antigen Self Test, #1 Covid Test Kit in US
A simple solution for COVID-19 infection detection, with rapid results in the convenience of your home. This test has received FDA Emergency Use Authorization for self-testing without the need to ship samples to a lab or for a prescription from your healthcare provider. This 15-minute test can be completed anytime, anywhere. Simply test yourself twice within 3 days, with at least 36 hours between tests.
Directions:
1. Prepare for test
2. Collect the nasal sample, or help administer if they require assistance
3. Perform the test
4. See results after 15 minutes
5. Test again within 36 days (or at least 36 hours between tests)
6. Refer to the product insert for full instructions
The BinaxNOW™ COVID-19 Antigen Self Test has not been FDA cleared or approved. It has been authorized by the FDA under an emergency use authorization. It has been authorized only for the detection of proteins from SARSCoV-2, not for any other viruses or pathogens, and are only authorized for the duration of the declaration that circumstances exist justifying the authorization of emergency use of in vitro diagnostics for the detection and/or diagnosis of COVID-19 under Section 564(b)(1) of the Federal Food, Drug and Cosmetic Act, 21 U.S.C. §360bbb-3(b)(1), unless the declaration is terminated or authorization is revoked sooner. BinaxNOW COVID-19 Antigen Self Test should be performed twice in 3 days, at least 36 hours apart. 
Only available in the US. Not eligible for returns
Timely & Great Customer Support
As always, my order in late March arrived on time and the BinaxNow tests were delivered with care. However, I had to use them quickly because they expired in May.
quick delivery, excellent product
came very fast & no issues whatsoever. reasonably priced as well
Quick service, great price
I bought some Covid tests (BinaxNow) from Protectly. They were a great price and came quickly. Loved getting the notifications about when they were coming. Great overall experience
Quick response and delivery time
The ordering process, helpful communication with staff and on-time delivery exceeded my expectations. I am a small business, and look to support small business' with my purchases, thank you Protectly!