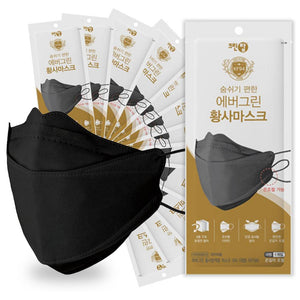 Cleantop Adjustable KF94 Mask Adult/Kids - 10 Pack (Earloop)
Cleantop certified KF94 adjustable masks. Available in Adult & Kids sizes. Adjustable nose-bridge and earloop design also perfect for those with glasses. 
KF94 Rating Certified by government of South Korea 

Made in South Korea

Individually sealed for highest hygiene standards and product safety

4-Layers of highest grade materials for >94% filtration of harmful particles
Adjustable earloop design allows for a perfect fit
Lint-free materials fit ergonomically around contours of the face
Ultra-soft, non-irritating to skin
Excellent breathability for all-day wear
10 masks individually sealed
100% Authentic Guarantee
Buying Options:
Adult - White & Black (BROWN PACKAGING) - 10 Pack, individually sealed

Kids - White & Black (BLUE PACKAGING) - 10 Pack, individually sealed

Size Guide: Adult - perfect for regular/medium size faces. Kids - fits ages 5-13.
KF94 is the South Korean certified equivalent to the N95 and the KN95 masks. NIH Study on Effectiveness of KF94 and N95 masks. This product not eligible for returns.
Disappointing
Extremely disappointed with these masks. Felt flimsy and didn't fit nor was there a way to make them fit. The loops aren't adjustable and the wire doesn't bend enough or extend enough for European noses. Can't use the masks.
Hello,
We have tried to contact you by phone but, were not able to reach you. It appears you accidentally ordered the kids/children's size rather than the adult size which sounds like is what you are needing. The kid's size will definitely be too small for an adult. They are adjustable in the front but, it won't matter if it's the wrong size in this situation. Please reach out to us by email so we can exchange for the correct size.
Great for small faces
This mask is a great fit for small adult faces and it works well with glasses.
Great Service, Great Quality
Up until recently I could not find a mask that I felt truly protected in or that fitted correctly so that my glasses did not fog up that is until I discovered the KF94 sold by Protectly. They assisted me not only in deciding the best mask to try but also I was on a tight deadline in which to receive it. Customer service went above and beyond in ensuring that I received my masks before having to fly. The masks themselves are comfortable, fits different face shapes and has space that allows for breathing in comfort and I am beyond thrilled that I am not constantly having to battle foggy glasses. Great Service, Great Quality and Great Company.
Masks
Great service and excellent masks. Thanks.
Great quality
These masks are great! I am a teacher, and they are comfortable enough to use while teaching all day while still providing great protection. I also get the masks very quickly after I order them, which I appreciate!
Best mask. KF94
Comfortable, no fog on glasses , adjustable loop ,great all around!