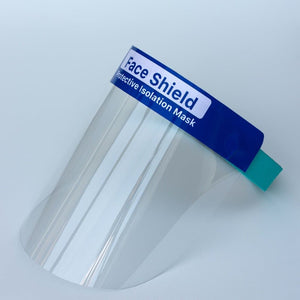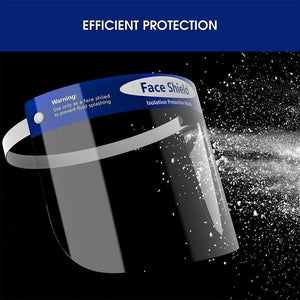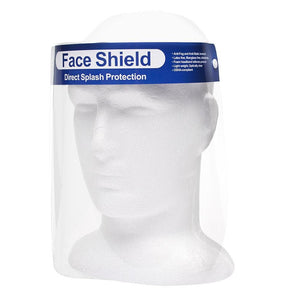 Full Length Face Shield - 5 Pack ($3.00 per shield)
In stock. We aim to ship within 2 business days or less from Portland, OR.

5 Face Shields
Help reduce incidental face touching
UV and Wear-resistant
COMPLETE COVERAGE - Full length face shield provides more complete coverage than typical face shields. Wrap-around design provides over-the-top, side and front face protection.
COMFORT  - This safety face shield equipped with an elastic band and sponge headband, the face shield is suitable for extended wear.
ANTI-FOG - High-quality optically and distortion-free 7mm Polyester film. Treated with anti-fog coating. Clear for maximum visibility.
QUALITY MATERIALS - Made of super transparent high-quality PET material. Wear-resistant and durable, without any odor.
REUSABLE - Reusable after proper disinfection
Perfect for workers dealing with face to face transactions during these uncertain times!
Please remove the protective film from the shield before using. This product not eligible for returns.
Terrible product
I purchased these shields for the second time recently, having been relatively satisfied with a previous (many months ago) purchase of what I thought was the same product. This new version is substantially inferior. The plastic is extremely thin and flimsy, doesn't keep its shape. The elastic headband is a joke. It, too, is very flimsy, and was so long that I had to put a big knot in it in order to keep it on my head. It is almost as if these shields were designed to be thrown away after one use. I had recommended these shields to others based on my first purchase awhile back, but there is no way I would steer anyone toward this current product. I am very disappointed that Protectly doesn't exercise better quality control.
Thank you for reaching out to us. One of our team members will be getting in touch with you to send a replacement. Have a great day!
Well made comfortable face shield
The foam on the forehead adds comfort and good fit!
Perfect!
These shields fit well. They're easy to use and very affordable. Made in the USA, too!
From A Texas Doctor
The masks block bacteria as claimed but virus like the Covid-19 is much much smaller than Bacteria so it is really not effective in truly preventing pass thru of the virus and offers no protection .Nowhere does it claim virus protection at all..
2 ?the mask is marked to be used ONCE OR SINGLE USE ONLY and not stated in the advertisement. This makes it extremely expensive in addition to not being virus -protective. Most mask on sale are REUSABLE to and 95% protective against the virus.I have 3 kinds of these but I just wanted to try yours to compare.
3.the face shield are not long enough to fully protect the mouth and too forward from the mouth so I will not wear it either.The ones I have are at least 2 inches longer and closer to the face for better protection and more comfortable with the eyeglass- like holder to the ears and very light ,very clear plastic and no forehead holder to bother with. I far prefer my older one.
Face shield
Thanks love them easy to see out of
SATISFIED Customer
I am very pleased with the face shields