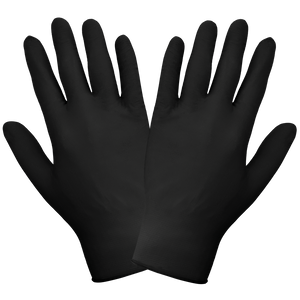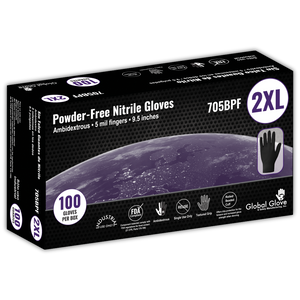 Nitrile Gloves Multi-Purpose, Industrial Grade - Box of 100
In stock. We aim to ship within 2 business days or less from Portland, OR.

Nitrile gloves, Industrial-Grade 4/5 mil 
FDA Compliant
100% powder-free nitrile, latex-free
100 gloves per box
Textured grip 
Rolled cuff allows easy donning/removal, prevents tearing and liquid runoff
Non-Sterile, Single-Use Disposable

Puncture Resistance With Great Comfort, Dexterity, and Tactile Sensitivity

Fit: Ambidextrous
Black color (XL), Green Color (M & L)

These premium industrial nitrile gloves are excellent for personal use hand protection, law enforcement, janitorial, automotive, food service, electronics, and parts assembly. The key benefit of nitrile gloves is their outstanding chemical and tear resistance. They are 3 times more puncture-resistant than latex rubber.

This product is not eligible for returns. 

These do not break
These are strong gloves...I get the large size...they come in green...I love that...and they are plenty thick yet I can still feel through the gloves to manipulate small objects...they will tear if used for an extended time working with something abrasive sometimes...and rarely...I have had this happen twice...and I have been using these for nearly a year...and use everyday...highly recommended...and at a fair price
Strong gloves!
I'm able to use these gloves for several hours picking up trash without any rips or tears. Easy to put on/off.
Speedy delivery
What I wanted, when I needed it. I'll be back for more.
Love the premium gloves! I have not had one glove to tear while putting them on!
waiting
have not received the gloves. slow delivery.
Great service
Hey, I ordered some rubber protective gloves for personal daily use. My order came quick in a timely manner and the quality of the gloves are great.