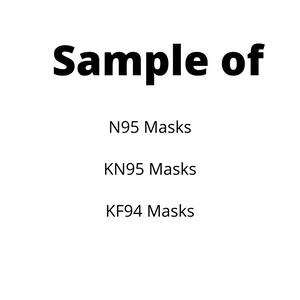 Sample of N95/KN95/KF94 Masks (specify which mask in notes)
To get a sample of any of our N95, KN95 or KF94 masks please use this listing to place an order. Samples can be ordered by themselves or added to a standard order.

Please limit samples to 2 of any mask (specific model or size) and put which masks you are interested in the notes during checkout. If it comes in different sizes or colors please make sure to specify.
The quantity specifies how many samples are ordered.
Current Promotion:
1 free sample with code: sample (1 per customer)
Appreciate the sample policy
I found it helpful to get samples of a few masks I was considering. Thanks!
So helpful!!
My mother and I are going on our first trip since The Virus That Must Not Be Named, and we both have poor immune systems, so safety is a top priority. There isn't a good variety of masks available in our area, so we thought that ordering some samples sounded like the perfect solution. And it was! The masks that we thought would fit the best actually didn't, so it was fantastic that we had a variety to try, and found some that fit very well for us. And the team was so helpful, they emailed me to make suggestions, because I hadn't realized that I was ordering a few that were practically identical. They even threw in an extra that I had mentioned possibly trying in the future, which was so kind! I will (and already have) suggest this company to other people. Thank you, Protectly!! =)
Great way to evaluate masks
Protectly having this sample system set up is a great service, it should really be the standard for any mask seller.
I asked if they had a mask that was out of stock (Moldex M4620) and they sent me a nearly identical but more expensive mask instead (Moldex 4800, has additional carbon filter).
A pack of either of those is very expensive if you don't know they'll fit your face. I was disappointed they weren't a good fit for me, but I'll let my mom try them out too since she's been looking for more breathable mask options.
I also tried some KF94s which unfortunately also didn't fit me, but I'm glad I got the chance to try them.
Fit is extremely individual and a sample pack like this is invaluable. Thanks!
Quick and easy
Very easy to use and fast shipping. Being able to try masks before committing to a whole pack is a lifesaver. Almost ordered a brand that I wound up not liking from the samples, so this saved me from that hassle.
Sample review
Amazingly generous assortment of masks. My faves were the Respokare N95 (not pleated) and the 3M Auras. Unfortunately, I have allergies but usually not allergies to scent. The smell of the Auras was pleasant but stuffed my nose. They were very comfortable and I might have been able to make the straps work. (I have a problem with head straps. They slide off my head. I've tried the pony tail, but my hair is just a bit too short. I tried bobby pins and that helps a little but I still fiddle.) The hard shell N95s were a non-starter. It's not that they were just tight around my face but the molded body pressed on my nose and even my cheeks sp I couldn't breathe easily.I don't think I have THAT big a nose, since I'm 5'0 and 95 lbs. Probably just the shape of my head and face. The Dobu was just to short too. I didn't get the Moldex black N95 so I have on opinion. But I do like the shape in the photo. I can't be vaccinated, starting with my 1 and only polio shot in elementary school and proved twice with 2 flu shots, decades apart. The first flu laid me out for a year, I caught mono at a group home, and was left with chronic EBV which I managed to live pretty well with until stressors reactivated it. I was being treated for that by a holistic MD, working full time and driving 200 miles round trip every Tuesday to get treatments which were working. He had a special batch of flu vax during the winter of 2013 and his opinion was that I was allergic to the adjuvants and his was adjuvant free. Since he was doing so good with my EBV, I took the shot. Within 2 months I was unemployed and 90% housebound with Myaligic Encephalomyelitis/CFS. I agonized over the mRna but decided against it after seeing feedback from other ME/CFS patients who saw a decline in their baseline health, some going from housebound to bed bound. I'm telling you all this because I didn't even try on the K94s. I have to get the absolute best protection short of the 3M P100 halo with cartridges which I have but find very uncomfortable. I haven't been out in public in 3 years and I need this mask for cardiology workup. So it has to fit well, offer excellent protection, be comfortable and light weight. If I had to pick one, I'd have to choose the RespoKare and gerry rig it to my head somehow because other than the head bands, it fit all my criteria.
Best customer service
The masks were great, but I accidentally didn't list enough masks for the number I ordered. Protectly called me and even advised me which masks would be best for my needs and even threw in a surprise note. Amazing customer service.