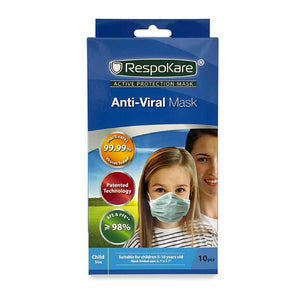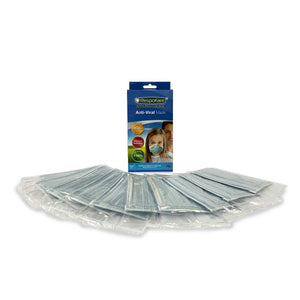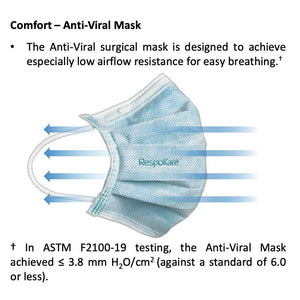 RespoKare Anti-Viral Mask for Kids (5-12) - 10 Pack ($2.50 per mask)
In stock. We aim to ship within 2 business days or less from Portland, OR.

Protectly is an Official & Authorized Reseller of Respokare masks.
Disposable antiviral surgical mask

FDA-Cleared mask with the US-patented Active Protection Technology to fend off viruses, bacteria, and fungi for respiratory defense. Made of 100% FDA-safe materials.
U.S. Patented 4-layer Innonix anti-viral technology - 10,000 times more effective than an ordinary mask**

FDA 510K
Mild Citric Acid fragrance as part of the formula
ASTM Level 3 (ASTM F2100-19) High-Barrier Protection
10 masks, individually sealed
>98% Bacterial & Particle Filtration Efficiency
Dimensions: 5.7 in x 3.75 in
Imported from China
Adjustable metal nose piece
Very High fluid/droplet resistance
Latex-free, dye-free, fiberglass-free, non-toxic 
100% Authentic Guarantee
Size Guide: Kids ages 5-12
* Destroys 99.99% of human coronavirus 229E and measles virus within 1 minute, and 15 flu viruses within 5 minutes upon contact with the mask surface. Human coronavirus 229E is a recognized testing surrogate for SARS-CoV-2 which causes COVID-19.
** Laboratory tests show at least a 4-log reduction (99.99%) of coronavirus, measles and flu viruses within minutes upon contact with the mask surface.
Manufactured by Innonix Technologies. This product is not eligible for returns.
Stop Use Indications: Do not use if hypersensitive to copper or zinc.
Instructions: Wear the mask covering both nose and mouth to provide a barrier to microorganisms, bodily fluids, and particulate matter. Wash hands before wearing the mask and after disposal.
Just Right
My young neighbor needed to find a comfortable mask to wear in school all day - Found It! Thank You!
Not kid size
These were huge…they fit my face but too huge for my kids. They may fit teenagers but definitely won't work for my 5 and 9 year old. They seem to be good quality although they are a little smelly.
Great Kids mask
Fits perfectly, breathable and comfortable
Great Mask
The kid-sized mask is great! We like the protective qualities. The mask fits well and stays in place. Would highly recommend.
Great mask, doesn't slip
These kid-sized masks are terrific. They are the only ones I've found that don't slip down my son's face when he talks. And they should be more protective than our cloth masks. Completely satisfied with this purchase and highly recommend!