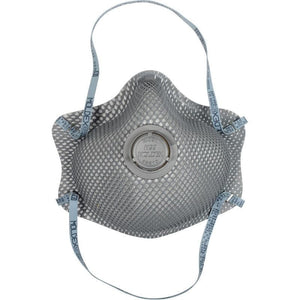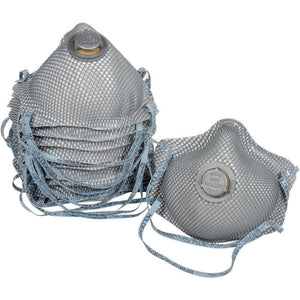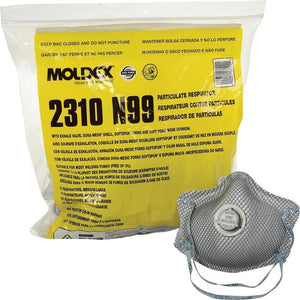 Moldex 2310 N99 NIOSH Premium Respirator w/ Valve - 10 Pack (Headband)
In Stock. We aim to ship within 2 business days or less from Portland, OR.

MADE IN USA
Manufacturer: Moldex
Size: M/L
Exhale valve allows to breathe easier and stay cooler
Molded nose bridge seals easily without a metal noseband
Standard N99 headband design
10 masks in a retail box
Dura-Mesh® shell resists collapsing in heat and humidity
Straps are securely attached so they don't break at the seal
Softspun® lining for increased comfort and durability
Meets heat and flame resistance in accordance with ANSI/ISEA 110-2009 Section 7.11.1
Latex-free, dye-free, fiberglass-free, PVC-free
100% Authentic Guarantee
Buying Options: 
Moldex 2310 - Rubber straps for a tighter face seal & control
N99 for a higher level of protection. NIOSH certified to have a filtration efficiency of 99% or greater. This product not eligible for returns. CDC/NIOSH Documentation.
Face Mask Travel Kit
I was impressed by the variety of masks available and being able to receive them quickly. I appreciate these travel masks as I use them for my outdoor work
when I don't want to use the higher-quality type masks and keep several in my vehicle to easily grab. I was glad to receive these and the KN95 masks through the mail.
I have not received my product as of yet. Can you find out when I will receive them please.
Dear customer,
Sorry to hear you have not received your order. One of our team members will be sending you the status shortly.
Worthless waste
Site will not allow change of 5 stars! It's as worthless as the product I'm trying to protect others from!
great value
can't complain, it's a great value
Fast and right
These folks can't do wrong. They have the masks you want and they deliver ASAP. Highly recommended