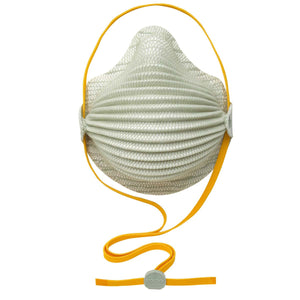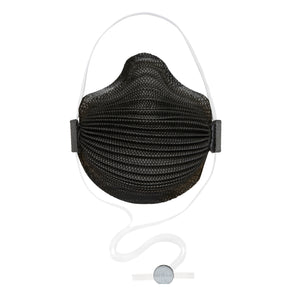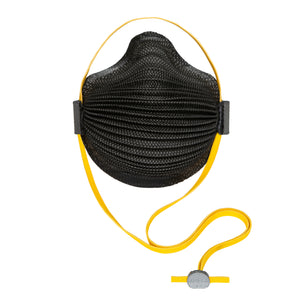 Moldex 4600/M4600/M4620 N95 AirWave® w/ SmartStrap (Adjustable) Regular/Black - 10 Pack (Headband)
We aim to ship within 2 business days or less from Portland, OR.       
Superior performance of AirWave® is due to its patented wave design technology for better breathability. SmartStrap® also allows you to hang your respiratory system around your neck when not in use.
4600/M4600 are identical masks, different colors. M4620 features a full foam flange on the inside of the mask.




SmartStrap is adjustable

MADE IN USA
Manufacturer: Moldex
Size: M/L
Moldex 4600 - standard gray color
Moldex M4600 - black version
Moldex M4620 - black version with full face foam flange on the inside
NIOSH N95 Approved for bacterial & particle (non-oil) filtration efficiency greater than >95%
Easy-breathing wave design for better breathability
Pinch free nose bridge
10 masks in a retail box
Dura-Mesh® prevents heat and moisture from collapsing the mask, so the mask will last longer
Protects against most welding fumes (non-oil)

Meets heat and flame resistance in accordance with ANSI/ISEA 110-2009 Section 7.11.1
Latex-free, dye-free, fiberglass-free, PVC-free
100% Authentic Guaranteed
Easier breathing, cool comfort and high protection are what you get when you wear an AirWave NIOSH N95 respirator. CDC/NIOSH N95 Documentation. This product not eligible for returns. 
Great product
I got these for my husband. He's does tile installation work and has his own business. He does a lot of cutting and sanding of the tiles. And I noticed he doesn't wear very good masks. He's always breathing in that dust. While I was at work this costumer came in wearing this exact mask. And I noticed how the quality looked. I asked the customer about it and he couldn't boast enough about it. And gave me the website. I ordered them right away. My husband LOVES them. Says they are great quality and it's exactly what he needs for the job. I need my husband healthy. So this is great... thank you.
Good and comfortable
This mask is very comfortable and the adjustable strap is really convenient.
Will be ordering more of these masks
My husband really likes these masks. This was our second order and he is already telling me I have to order more. He said they fit and work well and he feels they are better than other mask he has used and he likes they are made in the USA and of great quality.