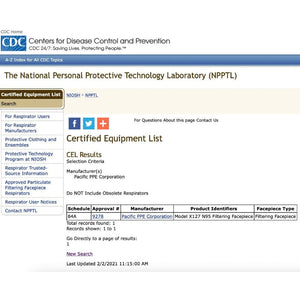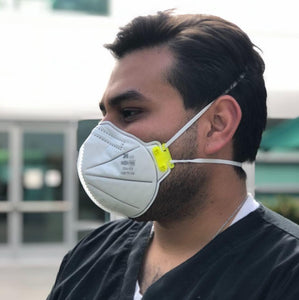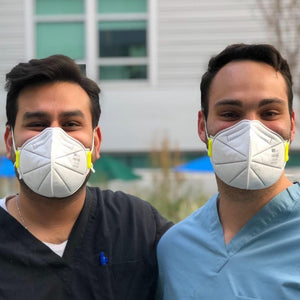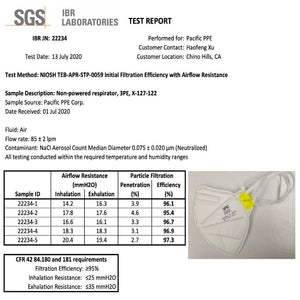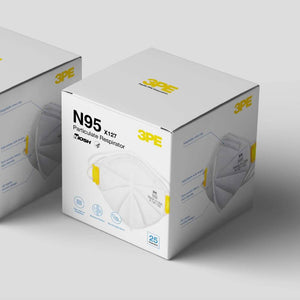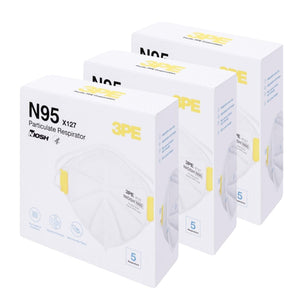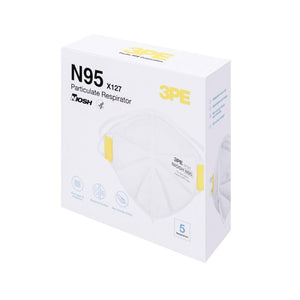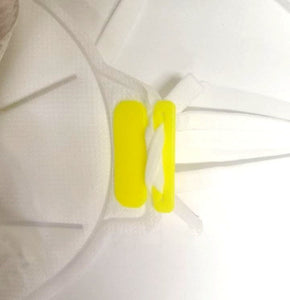 3PE X127M Adjustable N95 NIOSH Mask - 5 or 25 Pack ($3.75+ per mask)
Discontinued by manufacturer. For an alternative product please take a look at the Dobu 500 masks, which are also adjustable:

3PE N95 Mask is rated as the most comfortable N95 protection in America!
3PE N95 mask was forged out of the necessity to create reliable, highest-grade N95 respirators for personal and public health. Proudly made in California, USA. 
Models X127/X127M are identical, difference being the manufacturing process of attaching the clips. X127 is being phased out.
MADE IN USA
NIOSH/CDC APPROVED (TC-84A-9278) - X127, TC84A-9299 X127M version
NIOSH US N95 standard for >95% filtration against harmful particles
QUICK TIP: To secure straps in place you can loop the straps through the clips (bottom through top, top through bottom), shown in last photo
N95 standard headband design, adjustable
High fluid, droplet & particle resistance
5-layer protection
Extremely comfortable with maximum breathability
100% Authentic Guarantee
Buying Options:
5 Pack in retail box - $25.00 ($5 per mask)

3 x 5 Packs - $60.00 ($4 per mask)

25 Pack in retail box - $93.75 ($3.75 per mask)
Manufactured by Pacific PPE Corp, CDC Approved & Certified. This product is not eligible for returns.
My Go-To for the Plane
I recommend these masks very highly. They are versatile, comfortable and very effective. They are the top of my arsenal in the mask world. I always keep them around in case I have a challenging situation such as airplane travel, indoor crowds, or visiting someone with COVID. Plus, the folks at Protectly are marvelous. Great customer service. Top notch product. I have recommended them to many of my friends and family.
Gold standard
These are the masks I wear when I want to feel the safest. With two adjustable straps and a snug fit at the nose, they are comfortable for all-day wear.
strong and comfortable
These are the most comfortable N95 masks that I've worn. From the straps to the snug fit, I recommend them highly.
Feel protected!
In wanting reliable protection, found these N95s that are a snug fit around the nose and mouth and still comfortable and breathable. The yellow adjustable clips were a big seller for me. But most importantly, I feel protected. I wear these with complete confidence because of the N95 standard for >95% filtration against harmful particles. Thank you Protectly!
Comfortable and Safe
These have to be the most comfortable N95 available. The soft head/ear loops don't cause any rubbing. You can easily move your mouth. The mask doesn't touch your mouth.
most comfortable with efficiency
I order these for my husband who is a PCA with some vulnerable people. He needs to protect himself, his clients and me, as i am immunocompromised with other health issues. We have tried several brands of masks and these are the only ones he asks me to reorder. They are comfortable enough to wear during his work hours and they fit well around the nose and cheeks--no air gets in except through the mask. The ordering process is easy as well. i plan to keep using these masks indefinitely, as will he.