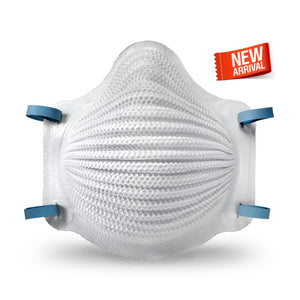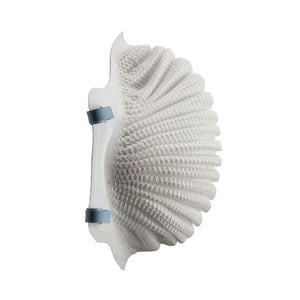 Moldex 4200 N95 NIOSH Mask - 10 Pack (Headband)
We aim to ship within 2 business days or less from Portland, OR.       
NIOSH N95 AirWave® is the next generation in respiratory protection – a revolutionary step forward from today's disposable respirators. The outstanding performance of AirWave®is due to its patented, wave design technology.
Straps made from Latex

MADE IN USA
Manufacturer: Moldex
Size: M/L
NIOSH N95 for bacterial and particle filtration efficiency greater than >95%
Exclusive easy-breathing wave design for increased breathability
Pinch free nose bridge
Standard N95 headband design
10 masks in a retail box
Dura-Mesh® resists collapsing in heat and humidity
Softspun® lining for increased comfort and durability
Meets heat and flame resistance in accordance with ANSI/ISEA 110-2009 Section 7.11.1
PVC-free
100% Authentic Guaranteed
Easier breathing, cool comfort and high protection are what you get when you wear an AirWave NIOSH N95 respirator.  CDC/NIOSH N95 Documentation. This product not eligible for returns. 
Moldex 4200 N95 NIOSH Mask
Very comfortable. Cover the face very well. A great purchase.
Moldex n95 mask
I needed a mask for an extended air flight and I would not be able to tolerate one that loops around my ears for that length of time. I tried your new moldex mask. Unfortunately I did not see that it qualifies as a respirator which I understand means it is not suitable protection when flying. Is this true??
Please help me find the safest one for flying. It cannot loop behind the ears; do you not realize that many hearing aids sit on top of the ears and are knocked off by ear loops.
Are my moldex masks unusable for safe flying? If so what is my best choice?
Hello,
All NIOSH N95s are approved as Respirators in the US. It filters at 95%> and like all the N95 we carry follow the NIOSH regulations for respirators. They are like any other respirator as long as they create a seal with your face. The RespoKare N95s we carry offer slightly more protection as they also destroy viruses and not only filter them out.
Comfortably Safe!
I work in the service industry: speaking with people, accruing between 3–5miles of walking per shift, medium to short-high volumes of breathing. I have medium length hair, and I'm able to wear a bun and the mask comfortably. The mask enables me to feel comfortable while wearing it throughout the day (8+ hour shift) speaking with the mask is comfy, the accordion style allows the mask to flex. The bands around the head are comfortable and stays on. Great product, I will be purchasing again through this company.
Most comfortable N95s I have found
These fit my larger face well and are the most comfortable N95s I have found
Can't believe this is an N95
As a shorter female with a small nose, I've been struggling with masks that push too much into my eyes. I liked the Moldex drop around the nose bridge and ordered it.
Now I don't wear anything else! I loved this mask so much that I've been giving them to friends and family and telling my clients about it.
What is a little bit disturbing is how much air this mask let's in. Immediately I noticed that I could smell more with it on than the 3m n95s. I checked the package, Protectly and the CDCs website to confirm this was a NIOSH approved mask. I just couldn't believe that this mask offers N95 protection and yet is so breathable.
It's very well engineered! Two downsides that are important to point out:
1. The styrofoam edge is great for sealing but will irritate your nose bridge, so give your skins some rest after long term wear.
2. There are two straps that go around the head. The one at the top is perfect the one on the bottom is too loose and would dangle there. So I had to manually tie a loop into the band to increase tension. So when I reorder, I'll spring for the adjustable bands.
And finally, I can't say enough great things about Protectly. They delivered my masks the same day via bike messenger!!!! Incredible service for the PDX area! I've been telling all my friends about Protectly. We love supporting local businesses that rock!!!
Happy with purchase
I have had a rough time finding masks that fit, these fit very well and i find them pretty easy to breathe through.