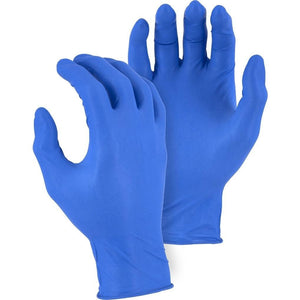 Nitrile Gloves Premium Grade 8mil - Box of 50
In stock. Ships within 2 business days from Portland, OR.
Premium, thicker 8MIL glove for better protection and better durability. Twice the thickness of most competitors.
Nitrile disposable gloves
8 mil thickness
50 gloves per box
Non-Sterile, Single Use

Puncture and chemical resistance with great comfort, dexterity and tactile Sensitivity

Fit: Ambidextrous
Colors Vary
This product not eligible for returns. 

Tough!
These withstand cleaners, grease, degreasers, and are incredibly resistant to tearing and abrasion, while maintaining decent dexterity. I use them for sorting, cleaning, and working on bicycle parts, and I have yet to have one tear on me. While they run a bit snug and can be tricky to remove while keeping right-side-out, I do reuse them a few times before discarding. I've never been this impressed with a disposable glove, I only wish more sizes were in stock as I'd order them for the bike co-op.
Excellent
I actually use your gloves for construction work and they are the most resistant that I've tried. I'm very pleased with your product 😊