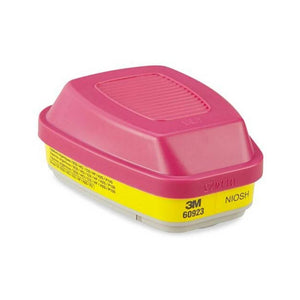 3M 60923 Acid Gas/Organic Vapor/P100 Cartridges - Set of 2
In stock. We aim to ship within 2 business days or less from Portland, OR.

Protection from  certain Organic Vapors, C

hlorine

, Chlorine Dioxide

, Hydrogen Chloride

, Hydrogen Fluoride

, Hydrogen Sulfide

,

 Sulfur Dioxide, Dust, Mist, Fumes, Gases and non-oil and oil particulate concentrations

Cartridge and filter combo for exceptional NIOSH P100 filter efficiency

Advanced Electret Media (AEM) provides lightweight, easy breathing comfort
Bayonet compatibility allows use with many 3M™ half and full facepiece respirators
MADE IN USA
100% Authentic Guarantee
Recommended Industry: Assembly and Mechanical, Batch-Charging, Chemical Clean-up, Chemical Manufacturing, Cleaning, Fertilizing, Finishing Operations, Handling, Laboratories, Maintenance, Manufacturing, Metal Pouring Including Exposure to Lead, Painting, Pesticide Application, Petrochemical, Pharmaceuticals, Pouring Molten Metal, Seal Coatings, Working in a dusty and poisonous atmosphere.
Complete Guide to Cartridges & Respirators
NIOSH approved to help reduce exposure to certain organic vapors, gases, and particulates. This product not eligible for returns.