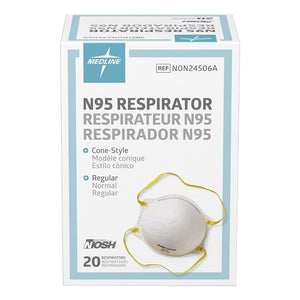 Medline N95 NIOSH Mask - 5 or 20 Pack (Headband)
In stock. We aim to ship within 2 business days or less from Portland, OR.
NIOSH APPROVED (TC-84A-3323)
EXPIRE 7/23
Imported from China

NIOSH N95 certified for >95% particulate filtration, microfilter protects against micron-size particles
Cone style design
Standard N95 headband design holds mask in place for maximum protection
Ultrasonic welded head-straps for a secure seal and proper fit
Adjustable metal nose piece 
Very high fluid & particle resistance
Extremely comfortable with maximum breathability
Latex-free, dye-free, fiberglass-free, non-toxic
100% Authentic Guarantee
Buying Options: 
20 pack is retail packaging ($.50 per mask)
5 packs are safely repackaged in order to give people an opportunity to try them out ($2.00 per mask)
This product not eligible for returns. 
Very effective, just not that comfortable
I do not have to wear a mask for hours, just a few periodic times. So, if I have to feel a little more discomfort when I wear what I know is a really good one that is providing maximum protection then that's just the way it has to be.
Fast delivery
Got my order with the quickness! Great masks! Definitely get the n95 that wrap around your head.
Great product excellent price
Great product excellent price and service