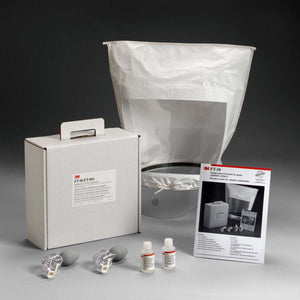 3M FT-10 Qualitative Fit Test Apparatus (Sweet)
We aim to ship within 2 business days or less from Portland, OR.
FT-10 is the professional qualitative Fit Test Kit from 3M that uses a sweet solution for testing (FT-10 uses a test solution of sodium saccharin that produces a sweet tasting aerosol)

Color of the hood may vary
Used for testing disposable masks as well as reusable respirators for fit, For particulate respirators or gas/vapor respirators with a particulate pre-filter,
Included in this kit:

Laminated instruction booklet (English/Spanish/Portuguese/French).
Sensitivity solution (sweet)
Fit-test solution 
Two nebulizers 
One hood 
One collar assembly 
Two sets of replacement nebulizer inserts
Meets OSHA's testing requirements for respirator performance.
This product is not eligible for returns.