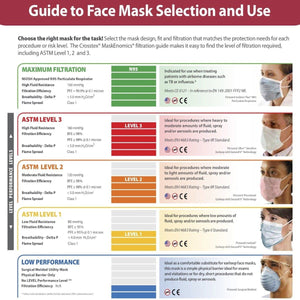 Kid's Surgical Masks (ASTM 2) - 50 Pack
In stock. We aim to ship within 2 business days or less from Portland, OR.

>99% filtration efficiency, Medical ASTM Level 2 
Ideal for children between ages 4 and 12
Upgraded with an extra skin-sensitive inner layer
FDA 510K Cleared, Medical
Imported from China
50 masks
Very high fluid & particle resistance
Soft and comfortable with maximum breathability. 
Comfortable elastic ear straps and metal nose clip for a snug fit
Latex-free, dye-free, fiberglass-free, non-toxic
100% Authentic Guarantee
Color: Blue

FDA Cleared medical masks for children. Suitable for medical and civilian settings. This product not eligible for returns.

Good option for surgical-style mask
Good to have some surgical-style masks fit for kids' faces from a source we've trusted.
Great mask for kids
Perfectly sized and comfortable mask for our 12 year old.
Great Product
Good fit for the little ones. The 3-7-8 year olds like the fit and keep them on, which is wonderful! Will buy again, especially with them in preschool, elementary school, and unable to be vaccinated.
Arrived so quickly, which is greatly appreciated!
Fit well and arrived so promptly! Thank you!
Perfect in every way!
Perfect size for my 7 and 9 yr olds. Great protection that we can be confident in. No complaints on fit either!
Not the correct size
These masks are too small for me to wear comfortably. I've stuck with my previous mask instead. :(