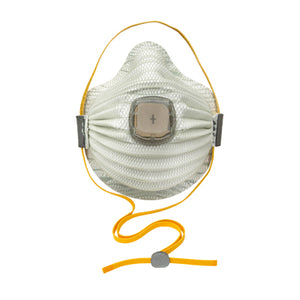 Moldex 4700 N100 NIOSH Premium Respirator w/ Ventex - 5 Pack (Headband)
We aim to ship within 2 business days or less from Portland, OR.       
NIOSH APPROVED (TC-84A-6963

)

MADE IN USA
Size: M/L
Adjustable Straps (SmartStrap allows respirator to hang around the neck when not in use)
Full foam face seal for added comfort and less pressure
NIOSH Certified N100 for the highest level of protection with a filter efficiency of 99.97% against non-oil based particulates
Ventex valve lets the hot air out faster for easy and cooler breathing
Molded nose bridge seals easily without a metal noseband
Soft foam nose cushion for added comfort and less pressure
5 masks in a retail box
Dura-Mesh® shell resists collapsing in heat and humidity, prolonging the life of the mask considerably and saving on costs.
Softspun® lining for increased comfort and durability
Meets heat and flame resistance in accordance with ANSI/ISEA 110-2009 Section 7.11.1
Latex-free, Non-Toxic, PVC-Free 
100% Authentic Guarantee
Moldex masks are shaped to fit the wearer's face naturally. Also, the molded nose bridge keeps the seal because there is no metal noseband to adjust. The unique Ventex valve allows hot air to escape faster and significantly reduces respiratory resistance.
CDC/NIOSH Approved N100 Respirators documentation. This product not eligible for returns.