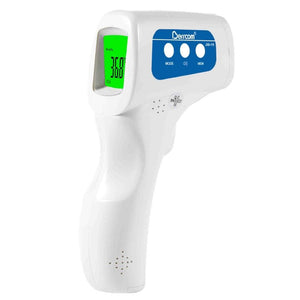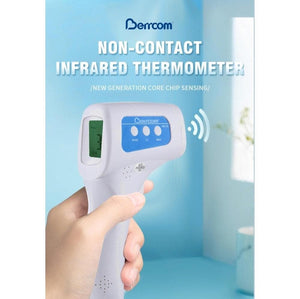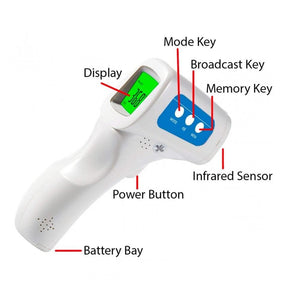 Non-contact Medical Infrared Thermometer
In stock. We aim to ship within 2 business days or less from Portland, OR.

Medical grade, 100% Authentic & Certified
Smart, No-touch medical infrared thermometer
Instant results in less than 1 second
FDA-Approved
Non-contact with fever alarm
15-second auto shutdown
Measure body temperature from a distance, without transmission of germs or bacteria
Super high-precision sensors and intelligent algorithm
Designed for all ages. Measure infants, adults, and elders as well as animals
Easy of use, one-button fast temperature measurement
Switch between

 

°C

 

or

 

°F

 

simply
Made in China
Batteries not included (Uses 2 AA)
Easily check and record the temperatures with anyone without making contact. This allows you to be fully equipped to safely get back to business. 
Still haven't recieved it
I'm sure it will work just fine. Seems to be taking a long time to get here, but, everything's so messed up so, I was expecting a delay in shipping.I will review it when I get it.
Thermometer
Not sure haven't had a chance to try it. It arrived via Protectly excellent service but had a home disaster and had to move out while
Trust it will be fine or hopefully they will replace. This company is awesome!!!
Works great for the family
I was tired of getting kids to sit still long enough to take their temperature, and this works great! Fast, and seems accurate.
Delivered fast, and it works!
Recieved the thermometer in 3 days, and it works perfectly.
Great purchase!
This thermometer is fantastic! I was checking my temperature with an oral thermometer each day before work, and it was excessively, irritatingly slow. Now it takes a mere moment. It is so simple that my small child can use it. I can rest assured that no creature in my household, including the cat, has a fever. It is a wonderful product. I am extremely happy with this purchase.
Not working
Going to call today....tried my own new batteries, still not working😢