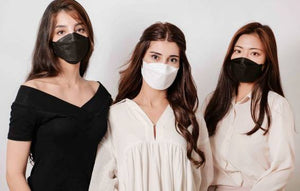 Korean Mask - Does it work?
Nearly a year into the outbreak, the most discussed article of clothing is one that few people ever considered at the beginning of 2020, which are called masks. They exist in a variety of sizes and shapes, and everyone undoubtedly has a favorite. Some are scratchy, while others are gentle on the skin. Masks are available in cotton and polyester, as well as the traditional ear-loop style and stylish neck gaiters. N95 is the undisputed king of face masks. How does a Korean Mask (KF94) stack up against its USA competition (N95), let's find out..
Korean Mask vs. N95 or KN95 
N95 masks are becoming more available; however, the Centers for Disease Control and Prevention recommends them being retained for healthcare personnel. As a result, many individuals turn to KN95 masks, which are the Chinese standard version of N95s. Unfortunately, there are many fakes out there, making it difficult to tell if you're buying a good mask.
As a result, a rising number of individuals are opting for a Korean mask - KF94 masks, which are the Korean equivalent of an N95 mask. These masks, which differ somewhat from N95s and KN95s, provide same excellent protection. And they're becoming increasingly popular due to the comfortable fit that they offer and being adjustable. Korean KF94 mask has been gaining traction recently, with at least one media outlet describing it as a "very protective" alternative to consider at a time when new coronavirus types appear to be spreading faster.
KF94 is basically the South Korean version of the N95, but with side flaps that adapt to face's contours and have a flexible band that bridge over nose. "Korean filter" is the abbreviation for "KF" and the number 94 refers to the mask's filtration effectiveness. According to the South Korean government's standards, these masks filter 94% or greater of particles down to 0.3 microns in size. The filtration effectiveness of an N95 is 95% or greater. Most experts agree that the 1% difference does not provide a very significant difference in the protection. They both offer outstanding protection for those that are practicing safety. In terms of preventing SARS-CoV-2 particles, KF94 was found to be equivalent to N95 [1] but these masks have greater inhalation resistance as compared to N95 masks [2]. Because of their denser fibre structure, bigger number of layers, various materials, and the band and mask construction that allow for tighter fitting, KF94 masks are able to filter out virus particles [1]. Wearing a face-seal adjustable KF94 mask and tightening it with a clip can improve respiratory protection for healthcare professionals in relatively low-risk areas [3]. The tent-like form of KF94 masks creates a little pocket of extra space between your mouth and the mask, which many people like.
The Division of Infectious Diseases, Department of Internal Medicine in Korea conducted a Fit Test for N95 Filtering Facepiece Respirators and KF94 Masks for Healthcare Workers research. Five N95 respirators (two produced in the United States by 3M and three made in Korea) and six KF94 masks, the Korean standard medical masks, were assessed in this prospective single-center simulation research. A total of 30 people were registered, and 330 fit tests for fit factor (FF) and leakage rate were conducted and in
KF94 masks, after fixation of ear strap with a hook, adequate protection rate improved significantly [4].
Similarly in a research involving seven patients conducted by the Department of Infectious Diseases, South Korea, virus particles were not found in petri dishes after coughing while wearing the N95 mask or the KF94 mask. While viral particles were identified on both the inner and outer surfaces of surgical masks, viral particles were only found on the inner surfaces of the N95 and KF94 masks [1].
Korean Mask Benefits
In addition to these qualities of KF94 masks, various benefits are summarized below [5]: 
Korean Mask KF94 is Available in Adult & Kids sizes.
Korean Mask KF94 is compatible with variety of eyewear and is adjustable.
The KF94 is one of the safest masks to use for protection against harmful air particles. These are the masks that Korean health personnel use to protect themselves.
The initial intention of these masks was for extremely air contaminated locations in Korea. They've shown to be effective in a range of conditions.
The KF94 mask is long-lasting and as it blocks over 94% of small particles, protecting your lungs against particulate matter, harmful air particles, illness sources including yellow dust and fine dust.
The KF94 is made of a light and skin-friendly material that makes wearing a mask seem natural. Mask is hypoallergenic so it's safe for kids, too!
It's easy to breathe through the mask, and it's as comfy as masks come.
People save a lot of money by using KF94 masks since they are very high quality and, when strictly followed CDC re-use protocol, can be reused.
This is especially helpful for people who are overwhelmed by the coronavirus costs.
This is one of the safest masks available, as well as one of the most affordable.
The upper layer of the KF94 mask supports a bending metal component, which is a unique feature because it makes the mask adaptable to a variety of eyewear, preventing fogging of glasses. This may be used to mould the mask to a person's face and over their nose. As a result, donning the mask is virtually undetectable.
It's simple to put on and feels natural on the skin. It also helps to reduce ear pressure. These masks are among the most comfortable and well-fitting on the market. They are available in Adult and Kids sizes.
References:
1. Kim, M.-C., et al., Effectiveness of surgical, KF94, and N95 respirator masks in blocking SARS-CoV-2: a controlled comparison in 7 patients. Infectious Diseases, 2020. 52(12): p. 908-912.
2. Jung, J.-Y., et al., Effects of Wearing COVID-19 Protective Face Masks on Respiratory, Cardiovascular Responses and Wear Comfort During Rest and Exercise. Fashion & Textile Research Journal, 2020. 22(6): p. 862-872.
3. Yang, H.J., et al., Respiratory Protection Effect of Ear-loop-type KF94 Masks according to the Wearing Method in COVID-19 Pandemic: a Randomized, Open-label Study. Journal of Korean medical science, 2021. 36(28).
4. Park, J.J., Y.B. Seo, and J. Lee, Fit Test for N95 Filtering Facepiece Respirators and KF94 Masks for Healthcare Workers: a Prospective Single-center Simulation Study. Journal of Korean Medical Science, 2021. 36(21).
5. The Benefits of a KF94 Mask.