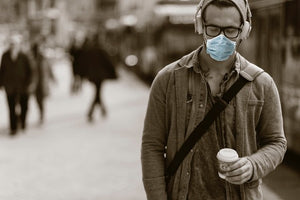 We are all starting to slowly become experts in face masks. After all, since the new coronavirus pandemic hit the world, we have been forced not only to protect ourselves but also to protect others. 
As you probably already know by now, masks are not all the same. However, it may be difficult to know which ones are better. With masks available in all sizes, shapes, materials, different levels of protection, you may be wondering which one you should pick. 
While there are many different good masks on the market, there is one that you should consider for those seeking the highest levels of protection - the US Patented Respokare mask. Respokare mask is FDA-Cleared for general public and medical use, as well. Now available from an Official & Authorized US distributor - Protectly.
Why You Should Consider the Respokare Mask
Although you may be looking for the best mask to protect against COVID-19, it is important to keep in mind that the Respokare mask is the first and only FDA-Cleared mask tested & proven to kill Coronavirus. It also protects you against other viruses. These include bird and swine flu, influenza type A and B, MERS, SARS, 18 flu viruses, among other airborne pathogens. 
Cleared by the FDA, and granted a US Patent, the Respokare mask is a disposable antiviral surgical mask. But more than this, one of the things that makes the Respokare Antiviral Mask better than other surgical masks is the fact that it features 4 layers:
#1: The Outer Layer:
This surgical mask comes with an outer layer made of spunbond polyprolypene with coating citric acid and others. 
Simply put, this layer's coating is hydrophilic which means that any droplets are immediately absorbed and trapped. Besides, since this coat features a low pH, it will help damage the viruses within 5 seconds. 
Overall speaking, just this outer layer adds a lot more protection than a regular surgical mask. 
#2: Anti-Viral Layer:
This layer is made of rayon with copper and zinc ions to ensure that it either inactivates and kills the viruses. 
In case the outer layer isn't enough to destroy the virus, the anti-viral layer can give a hand. Simply put, whenever the virus gets in touch with this layer, it will find very high concentrations of copper and zinc ions. This is enough to make sure that the virus becomes inactive. 
#3: Barrier Layer: 
This layer is made of non-woven melt-blown polypropylene and it serves as a filter. 
#4: Inner Layer:
This layer is made of spunbond polyprolypene and it is seen as the last or final barrier.
In case you are wondering, the Respokare mask is very easy to put on and take off. Besides, since it comes with an adjustable metal nose piece, you can be sure that it delivers a good fit. 
Bottom Line
As you can see, the Respokare mask is a bit different from other surgical masks. It is the latest technology that is cleared by the FDA to kill Coronavirus. It is also worth mentioning that Protectly is one of the three authorized distributors to sell the Respokare Antiviral Mask. This means that you can be 100% secure that you will get the real, authentic Respokare mask and not a fake or a copy. 
The Respokare Antiviral Mask is currently available at Protectly and you can either try a pack of 5 or a pack of 24 masks. All Respokare Antiviral masks are individually wrapped/sealed.