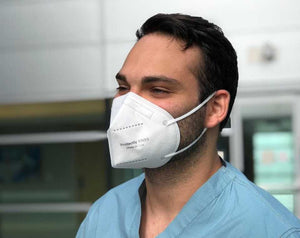 COVID-19 affected not only individuals but also companies and, therefore, the economy. So, this is the right time to support our economy and buy masks made in the USA. 
The truth is that if you've been looking for the best masks, you probably already realized that it's not easy to find masks made in the USA. While you can find many that are approved by the FDA, which is already a good thing, it is also important to think about helping our economy recover.
USA KN95 Mask
USA KN95 Mask is one of the masks that you should consider buying. After all, not only you'll be buying the highest-quality mask to protect against the coronavirus and, at the same time, helping the US economy. 
At Protectly, we are proud to be one of the very few that sell masks that are 100% made in the USA, such as our own USA KN95 mask. This mask is made in California and only uses the highest-grade 100% USA materials. 
Registered with the FDA, the USA KN95 Mask is constructed of 5 layers of protection to ensure that you are well protected against COVID-19. 
This disposable mask is fantastic daily and features a very high droplet/fluid/splash resistance. Besides, you will be glad to know that it is extremely comfortable, soft, and with maximum breathability. This means that even if you find other respiratory masks uncomfortable, you will certainly like the Protectly USA KN95 Mask. After all, this mask features advanced electrostatic media to ease breathing and inactivation of harmful particles.
USA KN95 Mask is lightweight and adapts to your face. In fact, one of the best things about this mask is the fact that you can get it in three different ear loops sizes. The large comes with 9 inches ear loops, the medium with 8.25 inches, and the small comes with 7.75 inches ear loops. 
In case you don't know which size will fit you best, just consider the last time you bought glasses or hats. If you usually buy smaller or larger sizes based on the size and shape of your face, you will probably need to do the same for the ear loops. 
To ensure that you get a snug fit, these masks come with elastic ear straps and a metal nose clip. In addition, the USA KN95 mask is not only lightweight as it is latex-free, dye-free, fiberglass-free, and PVC-free. 
At Protectly, we are proud to have the USA KN95 mask in stock and help our economy thrive.