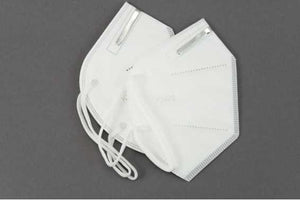 KM 95 Mask vs. KN 95 Mask – What's the difference
The use of a KN 95 mask is one of many strategies in helping preventing COVID-19 and staying safer. At the beginning of the pandemic, the WHO (World Health Organization) recommended cloth masks for the general population, while respirators and surgical masks were used by health professionals [1].
Now with the increase in the production of Personal Protective Equipment (PPE) to fight COVID-19, health professionals are recommending that the population replace cloth masks with a higher degree of protective masks [2]. But the question is, which mask is better? Does KM 95 mask and KN 95 have the same level of protection? Are they equivalent? This article aims to help elucidate these issues.
KN 95 Mask
KN95 masks are composed of multiple layers (4-5) of nonwoven material to make it more fluid resistant and provide some heat resistance features as well. They are designed to be worn over the nose and mouth having earloops that are placed behind the ears to fit the mask securely on the face. Most people find the earloops to be much more comfortable for all-day wear as compared to N95 masks. From the point of view of filtration capacity, KN 95 masks have a filtration capacity of 95% or greater, thereby the "95" in the name" [3]. They have the capacity to protect against 0.3-micron size particles.
KN95 masks are certified in the People's Republic of China, in accordance with the standards imposed by the GB2626-2006 regulation [4]. This regulation specifies the technical requirements, the test methods, and the marking of respirators equipped with a protective filter that purifies the air of potentially harmful particles.
KM 95 Mask
It would be surprising to know that KM 95 masks do not actually exist. KM 95 is a typing error made by users when they are searching for KN 95. This means that KM 95 actually refers to KN 95 and it does not represent any other type of mask. Therefore, if you are looking for information related to KM 95, review the information above. There are also terrific actual customer testimonials written at this page.
As highlighted KM 95 (KN 95 in actuality) protect against particle of size 0.3 microns. But coronavirus is 0.1 micron in size, so how come KM 95 protects against COVID-19? Coronavirus is usually attached to a larger particle such as aerosols or droplets [5]. Due to its multiple layers, the KM 95 (KN 95 in reality) mask is effective for preventing airborne particles from entering our mouth and nose [4].
The importance of masks
The answer to why it is of great relevance to use these masks lies in two main advantages: protect yourself and protect others. The masks create a barrier between the mouth and nose and the outside world, protecting us from Covid-19, which has already been proven to be transmitted through respiratory droplets. These droplets have already been studied, they are transported through the air; therefore, masks are indispensable as barriers to reduce the risk of infection and protect others [6].
Conclusion
To prevent the transmission of the SARS-CoV-2 coronavirus, the use of KN 95 masks is the main ally for both healthcare professionals and ordinary citizens. People searching for KN 95 make a typing error and look for KM 95, but KM 95 does not exist, rather you must be looking for KN 95, which is used as a protective measure against coronavirus.

References
World Health Organization. Advice on the use of masks in the context of COVID-19: interim guidance, 5 June 2020. World Health Organization; 2020.
Cumbo E, Scardina GA. Management and use of filter masks in the "none-medical" population during the Covid-19 period. Safety Science. 2021 Jan 1;133:104997.
Arellano-Cotrina JJ, Marengo-Coronel N, Atoche-Socola KJ, Peña-Soto C, Arriola-Guillén LE. Effectiveness and recommendations for the use of dental masks in the prevention of COVID-19: a literature review. Disaster medicine and public health preparedness. 2020 Jul 17:1-6.
Brochot C, Saidi MN, Bahloul A. How Effective Is the Filtration of 'KN95'Filtering Facepiece Respirators During the COVID-19 Pandemic?. Annals of Work Exposures and Health. 2021 Apr;65(3):358-66.
Simpson JP, Wong DN, Verco L, Carter R, Dzidowski M, Chan PY. Measurement of airborne particle exposure during simulated tracheal intubation using various proposed aerosol containment devices during the COVID‐19 pandemic. Anaesthesia. 2020 Dec;75(12):1587-95.
Howard J, Huang A, Li Z, Tufekci Z, Zdimal V, van der Westhuizen HM, von Delft A, Price A, Fridman L, Tang LH, Tang V. Face masks against COVID-19: an evidence review.