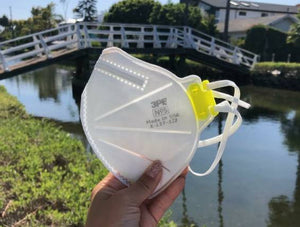 The pandemic has been going on for over a year. July marks around 15 months  since the world first noticed the virus. After the chaos of the first few months, 10-15 months of being indoors and being extremely careful out there has allowed us to see the future and make a plan for the road ahead. Face masks continue to be an integral part of this road. 
Since the COVID-19 pandemic began, Protectly has provided only the highest-quality PPE products to individuals and businesses throughout the United States & Canada. 
N95 mask that is actually comfortable to wear and provides an everyday protection against Covid-19 was not an easy product to find and still a rarity amongst a massive selection of N95 brands. While many consumers were able to obtain various N95 masks throughout the pandemic, many of them found them to be unbearable to wear for travel or long duration. This all changed when N95 mask from 3PE came along. Protectly was the first authorized distributor for 3PE. 3PE N95 Mask is Made in USA and has been one of the best-selling products. 3PE Corp is committed to quality and authenticity and partnered with Protectly at the beginning of the pandemic to help bridge the supply gap due to overwhelming demand for N95 masks and respirators. 3PE handles every step of the mask manufacturing process, from start to finish while sourcing only the best-grade materials, all in accordance with FDA and NIOSH requirements. 3PE N95 masks are of the highest quality out on the market.
3PE was created by a group of respiratory protection experts who saw the need for best N95 masks in the face of the COVID-19 pandemic. They decided to setup a manufacturing plant to produce N95 mask in the United States. This would help to reduce the shortage and make N95 more affordable. The factory could produce 5 million N95 masks per month, which significantly reduced the shortage. 
Since the beginning of the pandemic, Protectly has been the premier authorized distributor for 3PE. This was because Protectly helped solve the shortage of N95 masks made in the USA due to the large demand. N95 masks provide high protection against the spread of airborne diseases such as the coronavirus. N95 masks can filter out 95% or more of all airborne particles if they are properly fitted. The 3PE N95 Masks are a favorite of our customers. They have a good reputation for being high-quality and made in the USA which has been a priority for many.
3PE makes their masks in California, USA. 3PE received official NIOSH approval for N95 respirator masks after making huge financial investments in technologically advanced machines and meeting with government officials. 3PE was granted the approval number TC84A-9278 to make their N95 masks. 
Protectly.co is proud of its partnership with 3PE, and will continue to stock their products in the future.