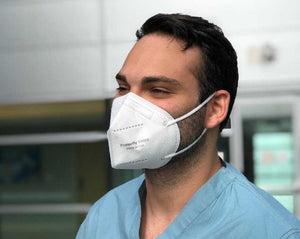 KN95 Mask USA-Made Available for Purchase Online
Protectly brings you the long-awaited genuine USA-Made KN95 masks. KN95 Masks can no longer be imported from other countries due to a recent revocation of FDA EUA status for imported KN95 masks. Because of the high demand for KN95 masks, Protectly has created the best KN95 Face Masks that you can find. KN95 Masks that are made and designed right here in USA, as consumers have been requesting USA made masks. Protectly KN95 Masks are made according to all regulations and highest standards, using only the highest-grade 100% USA materials.
Protectly KN95 masks are soft on skin, yet highly durable of 5 protective layer construction and nontoxic materials. This 5-layer respirator mask is a true KN95 Mask that is FDA-Registered. They are manufactured in accordance with USA standards and independently lab tested to exceed KN95 standard for >95% bacterial and particle filtration efficiency. Independent testing by Nelson Labs (below) confirmed the mask exceeds the standard and achieved >98% filtration efficiency, along with strong fluid/droplet resistance. This provides very effective respiratory protection from fluids, droplets, and harmful air particles. One of the main differences between a KN95 mask and N95 is that the KN95 mask comes with elastic earloop bands and the N95 mask comes with headbands. It comes down to a personal preference whether one likes the other. Usually, the earloop design is much more comfortable to wear for extended periods of time. However, in areas of high contamination or travel, N95 mask can be fit very tightly for a super snug seal around the face. It is recommended to have both masks!
Protectly stocks three sizes for the USA Made KN95 mask, along with a universal adjustable earloop option. The masks are snugly fitted around the nose and mouth to offer maximum protection. In the wake of global viral pandemic protect yourself and those around you with our KN95 masks.
 Buy KN95 Mask, Made in USA (10 Pack, $2.75+ per mask)