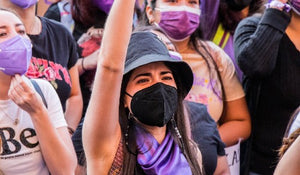 Masks can fit a variety of faces; however, we have seen that people with larger faces need help finding masks that fit them. Masks that are too small make it impossible for people with larger faces to wear them for extended periods without feeling discomfort, if they can even have them stay on in the first place.
NIH has recommended that people modify the masks using fit alteration techniques; but Protectly has a much better solution. We realized that this is an issue for many of our customers. This is the reason why Protectly carries one of the largest selections of genuine masks, where people can find a mask that will fit them. We also can sample out most of the masks we carry.
The options we have available and recommend for our customers with larger faces are the following:
KN95s (earloops):
Our made in USA KN95s are offered with earloops in Large size as well as adjustable (the adjustable ones are slightly bigger and have a bead allowing them to be adjusted down, which can be removed for Extra Large loops).
KF94s (earloops):
We believe that the LG adjustable KF94s are the best option for those looking for the KF94 style mask. They are great for people with larger faces and are adjustable to your face. Bluna KF94s might work for some people with larger faces as well, but LG KF94s are a size up from those. Mega Fit XXL masks are the largest KF94 masks on the market and a size up from the LG KF94s.
Shop Mega Fit XXL Adjustable KF94s
N95s (headbands/over the head):
We have several N95s that are made for people with larger faces - the Sperian one is also an XL N95 mask. They come in a variety of shapes, from cup to folded:
Shop Respokare N95s (Large size, folded style)
Shop Benehal 6115L N95s (Large size, cup style)
Shop Moldex 1513 (Large size, molded style)